The JBL Link View sounds great playing music, particularly with bass-heavy tracks. Music is always lit with Google Assistant smart display with the best sound quality. Isn't it amazing to hear that? With our all-new technology, we are here with a Smart Bluetooth Speaker.
The JBL Link View speaker is great with the Google Assistant. The Link View works best as a kitchen assistant, with a great guided recipe system, an attractive touchscreen, and a knack for multitasking.
Enjoying music with the latest technology.
The JBL Link View has the best sound quality of all current smart displays speaker equipped with Google Assistant. Smart displays are a relatively new category of smart home tech with several good options and no clear front runner.
All of them combine the help of a smart speaker with google assistant with a simple touchscreen that shows you cooking instruction, the forecast. Even your calendar, pictures videos and more.
It's not just a smart speaker.
Legendary JBL sound
The JBL Link View has a touchscreen, but it's not a tablet. It has speakers and a microphone, but it's not just a smart speaker. It shows visual information after asking a question, but your phone can do that with the same Google Assistant. The JBL Link View has a lot to prove merely to justify its existence as yet another screen looking for a place in your home.
The JBL Link View is cheaper than our favorite phones or tablets. You can set up the JBL Link View using the Google Home app. it's just so fun with such an amazing gadget, isn't it?
There is so much to explore about Link View.
You can customize the ambient screen using the app — pick from personal photos, stock photos, and a clock. You can also enable personalized results, set up a voice match, and give the Link View your address via the app.
If you're worried about privacy, the Link View has a switch to mute the microphone and a physical shutter covering the camera. Otherwise, it only records what you say after you say the wake words "Hey Google" or "OK Google." Since it integrates with services such as Google Calendar, you might see personalized info on the home screen, but you can turn that feature off in the app if that makes you uncomfortable.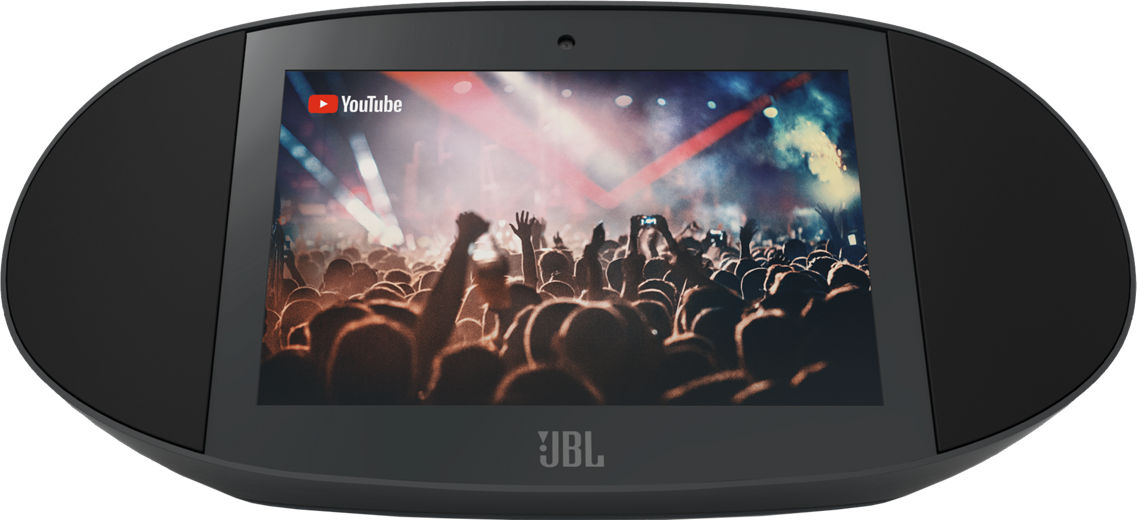 See what a smart speaker display can do.
Once you're up and running with the JBL Link View, you no longer need your phone as an intermediary. You can talk directly to the screen, and it will respond to commands via Google Assistant and search the web, control your smart home, play music, add something to your shopping list, play a game, and more.
It's also possible to get started with a tap on the ambient screen, and the Link View will show you a snapshot of your day and the local weather. Scroll over for music and video recommendations and suggestions of other commands.
Use your speaker as your mobile phone.
8" high-definition touch screen
The screen shows YouTube videos in HD. You can also browse your personal photos and make a video call using Google Duo.
The quality of video calls will of course depend on your signal quality. Our test calls were smooth and clear if not perfectly crisp. If the recipient doesn't have Google Duo, you can always make a normal voice call: Google's Assistant will recognize your voice and search your contact list for the phone number. The recipient will even see that it's you calling, even though you are on the speaker.
Control everything all with your voice.
Swipe down from the top of the screen, and you'll see a control panel with shortcuts for common tasks like turning off the lights or broadcasting a message to other Google Assistant speakers. You can also pull up a room-by-room list of all of your devices through this screen. You can control each with a touch or with your voice.